Sunday, November 15th, 2009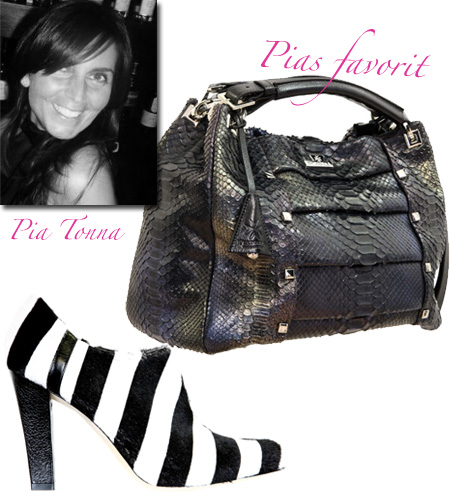 Jag är otroligt stolt att kunna publicera en intervju med den brittiska väsk- och skodesignern Pia Tonna. Hennes otroligt välgjorda väskor och skor säljs bland annat i London på Harrods, Fenwick of Bond Street och Fortnum & Mason. I Sverige finns hennes design hos Palmgrens och om ni läser längre ner i intervjun så ser ni att hon inom kort ska öppna nätbutik också.
Om du känner dig obekväm att läsa på engelska så kan du läsa en översättning via Google Translate här.
– Background –


-Can you tell us about your background and how you decided to start designing your own handbags?
I studied design at art college and on leaving I went it to marketing working on some great projects and brands from the British Fashion Council to Paul Smith and the Chanel Group. After a lengthy time building brands I realised I really missed the creative side and at the time when I launched my handbag line there was little on offer that had a point of difference with attention to leathers, shapes, finishing – so I went for it.

-What has been the largest obstacles for you to this point?
Having the capital to push the brand to get the message across. We have been lucky to be supported by the press and have had some great editorial but you need capital investment to really start to make headway.

– Inspiration –


-From where do you get your inspiration?
It comes from a feeling inside, I'll see a book or a film or think about a period in time and then I'll research it and then the ideas grow from their. I work very much with really unusual leathers and always look for innovation with the tanneries I use, so surface treatments are important – it is what makes the bags different and special. It could be lasering, quilting, tie-dye – there are so many things you can do rather than using a plain, flat leather.

-Who do you have in mind when you design?
Women who want something different and care about quality.

-Are there any designer, who is a direct competitor, that you admire?
We are a small niche brand but I love Miu Miu, it has a great signature.

-Which designer in other areas would you say influence you the most?
I love architecture, film, photography – it is hard to name just one.
– Production –


-Where are the bags produced and by whom?
Made in Italy, they also produce for the Gucci Group and Ferragamo.

-How did you come to decide to work with them?
I was introduced to them.

-Can you tell us the demand you've on the material and design of your bags – what would you like your customers to know about them?
We always use the finest Italian leathers and hardware, we never compromise.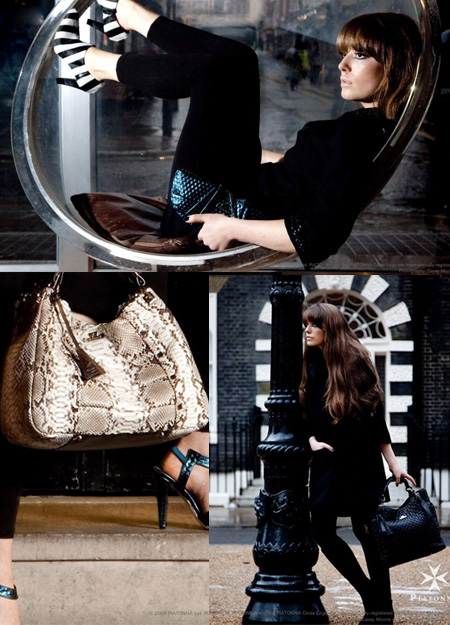 – Marketing –


-Do you see your design to have their own niche or do you see any competitors with similar designs as yourself?
We have our own niche, you have to be different to have stand out value.

-How have you decided to market your products?
We use our website and keep the press informed of our activities. If they like what we do and it is newsworthy then the press invariably support us through editorial.

-Are there anyone in particular who you would like to wear your design?
I am really adverse to the celebrity mentality – I would prefer women buy the bags through loving the product not because it has been seen on the arm of an actress in tinsel town.

-What is your favorite piece from any of your collections?
The python Sixty 8 bag – it is timeless with a modern edge and looks super lux.
– Selecting a retailer –


-What are you looking for in a retailer?
Good product offer, care and attention to merchandising.

-How do you work with them?
We meet them during the shows and keep in contact with them throughout the season.

-Do you sell your products online? If not, are you planning to?
Yes we do but we are changing the functionality of the site at the moment, so watch this space.
– Other –


-What do you think about Sweden and Swedish fashion?
Sweden is clean and modern. I think Swedish fashion is eclectic.

-What's the best purchase you've ever made?
My first apartment in London.

-Shoes or bags?
Both…

-Do you read any fashion blogs?
Vogue.com and lots of others, depends what topics they are covering.
Thank you so much Pia for taking the time to answer my questions. Stort tack även till Daniel som förmedlade kontakten.